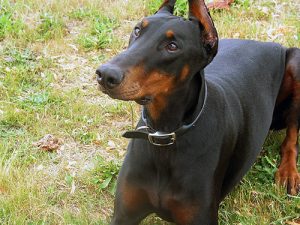 The best type of toys for Dobermans needs to be durable and tough. Dobermans are powerful dogs and can destroy unsuitable toys in no time. This can not only get expensive constantly replacing toys, but it can be dangerous with a risk of them choking on the broken pieces.
The Doberman Pinscher is also a high-energy dog and very intelligent. Toys can be a great way to provide additional exercise and also a mental challenge. If your Doberman isn't receiving sufficient exercise and mental stimulation they can become bored and frustrated.  For a guide on how to exercise a Doberman see here.
Therefore, the best toys for Dobermans need to be tough, get them moving to burn off pent-up energy, and to provide a challenge for their minds.
Here is a selection of the most recommended toys for a Doberman Pinscher;
The must-have toy for Dobermans
If you don't know what a Kong for dogs is it is a tough rubber dog toy with a hole in the center so you can stuff it with treats or even flavored paste. the Kong is actually three dog toys in one.
Food and treat stuffing puzzle toy. You can even freeze the Kong for a hot weather treat.
Chew toy – made of safe near-indestructible rubber
Fetch toy – due to its unique shape it bounces in unpredictable directions making a game of fetch more fun.
Although the standard red Kong Classic would be fine for a Doberman I recommend using the black Kong Extreme. These are near indestructible and will last your dog's lifetime.
They come in a range of sizes from XS to XL. For the Doberman, I recommend using the extra-large Kong as the smaller sizes don't hold as much food or treats as you would think.
For a Doberman puppy, you should choose the Puppy Kong. These are made of a softer more flexible rubber so they don't do damage to their young and developing teeth and jaw. See Puppy Kongs on Amazon here.
To learn more about how to use a Kong for dogs see here. If your Doberman doesn't have a Kong, get them one or even two. See the Kong Extreme on Amazon here.
Chew Toys for Dobermans
When it comes to getting the right chew dog toys for power or aggressive chewer like a Doberman, it's important to keep size in mind. Toys that are too small can easily be choked on by larger dogs.
The most ideal material for chew toys designed for aggressive chewers is rubber. Rubber is durable and virtually indestructible, so this material should be your first pick in a dog toy. Look for soft, malleable edges that are smooth and not sharp.
Here are recommended chew toys for Dobermans;
Gough Nuts Indestructible Chew Toy
The Gough Nuts chew toys are my number one pick for aggressive power chewers. Extremely popular with people with power-strong dogs for their toughness.
Extremely tough and a good size and shape (11.75 inches long). Dogs like stick-shaped toys because they can hold them between their paws while they work on the end. Also great for a game of fetch.
View Gough Nuts Maxx Stick on Amazon
The Gough Nuts ring is 5″ in diameter with a 1.75″ cross-section. Virtually 
indestructible, guaranteed! If your pet can chew through the outer layer to expose the inner red layer, GoughNuts will replace your toy.
View Gough Nuts Chew Ring on Amazon
Deer Antlers
If you are wanting a more edible dog chew, deer antlers are one of the toughest and longest-lasting. These are available in a range of different sizes to suit your dog. Antlers are a source of minerals such as calcium and phosphorus. And many dogs seem to really like the taste.
View Deer Antlers on Amazon.
For more chew toy recommendations see here.
Ball Toys for Dobermans
Most Dobermans love ball to the point of being ball crazy. However, the average ball doesn't stand up to the Doberman toughness test. Here are balls that are tough and will last your Doberman.
For the ball crazy dogs that tend to destroy most balls. Snug rubber balls are a virtually indestructible solid rubber ball and are the same size as tennis balls that dogs know and love and also come in a fun array of colors. Snug will replace your balls absolutely free if your dog is tough enough to destroy them. Sounds like a challenge.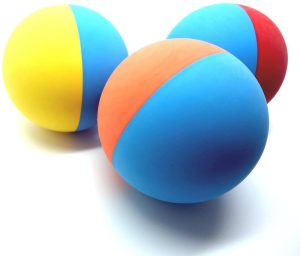 As with all the Kong Extreme range, the rubber ball is no exception. Available in two sizes – small and medium/large. Obviously, the larger size is best for a Doberman.
View the Kong Extreme Ball on Amazon.
Toys for Dobermans that shred
Many Dobermans like soft plush toys. However, most plush toys would be shredded in minutes by most Dobermans. The key is to select plush toys that are tough and indestructible. These types of toys are also ideal for Doberman puppies.
Tuffy plush toy range
The Tuffy range is known as the toughest soft toy for dogs. Tuffy plush toy range combines durability with softness. This is accomplished with seven-layer stitching, multiple tough outer layers of material, and a fleece inner lining. They are also machine washable and float.
(available in a range of animal shapes)     
See the full range of Tuffy Plush Toys on Amazon            
For more suggested plush toys for shredders see here.
Exercise Toys for Dobermans
Dobermans need a good amount of exercise daily to burn off all that pent-up energy. It is recommended to give them one to two hours daily. Toys are a great way to provide some of that exercise.
Here are suggested toys for giving your Doberman exercise.
A Flirt pole is like a giant cat tickler for dogs. It has a long handle with a bungy type rope with a lure or toy attached to the end. You simply move the lure along the ground around in circles or in different directions as your dog chases it.
This activity is ideal for Doberman as it works the whole body and strengthens their muscles. It also burns energy and tires your Doberman quickly. Be sure they are warmed up first and have a good "leave it" command and don't allow them to destroy the toy. It is important that this be a controlled exercise. For a full guide to flirt pole exercise for dogs see here.
View Flirt Poles on Amazon
A Jolly Ball is a nearly indestructible ball for dogs that they push and chase around. As the Jolly ball is impossible to bite they have to push it around.
They come in a variety of sizes, styles and are also available with a handle or rope attached for tug of war. With this type of Jolly Ball they can pick it up. You can put water in the ball to make it heavier making it a good strengthening exercise.
A spring pole is simply a spring connected to a rope that hangs from a tree branch or beam with a lure or toy attached to the end. This allows your dog to play tug of war with him or herself even if you are not there. Popular with a lot of dogs that love a good game of tug of war. The spring pole is also a great strength-building exercise to keep their muscles strong. This helps to protect the joints and tendons and prevent injury.
For more muscle building and strengthening exercises see here.
Most dogs can chase and catch a ball. But a flying disc requires a little bit more skill, coordination, and timing. Roll the Disc on the ground towards your dog. They will instinctually want to grab it in his mouth. Once you've accomplished this, try tossing it at a very low level first to your dog. If you feel like your Doberman is ready to go to the next level, toss the disc a little higher and further. Great energy burner and you may be amazed at your dog's agility and acrobatic skill.
View the Kong Flying Disc on Amazon

Mental Challenge toys for Dobermans
Dobermans are highly intelligent and are good at problem-solving. It is important to provide as must mental stimulation as it is to provide sufficient physical exercise. In fact, mental stimulation and challenges can tire a dog as much as physical activity.
For more information on the six categories of mental enrichment see here.
Here are some recommended interactive puzzle toys for your Doberman. For more puzzle toys for dogs see here.
The Bob A Lot puzzle toy is another great option for providing mental enrichment at meal times and in general. This toy comes in two sizes – Small and Large. The large is best for Dobermans.
Many Dobermans can eat their food very fast. By feeding using a Bob A Lot they will eat slower and work for their food.
The large can hold 3 cups of food which is enough for a full meal for most dogs. It has a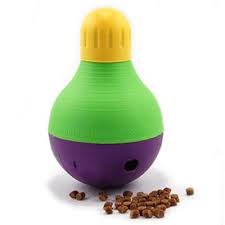 weighted non-slip bottom with an upper and lower chamber inside.
You can adjust the size of the openings to vary the degree of difficulty. This is one of my own dog's favorite puzzle toys and keeps her busy for up to 15 minutes. Much longer than many other puzzle toys
.It is strong and durable but be sure to remove the toy when your dog has got all the treats or food if they are prone to chew their toys.
View Starmark Bob a lot on Amazon
Zogoflex Qwizl Puzzle Toy
This is great for stuffing treats and will keep your Doberman occupied for a long time. It is also made tough and durable so they won't just destroy it to get to the treats inside.
View Zogoflex Qwizl Puzzle Toy on Amazon
For more Puzzle Toy suggestions see here.
Toys for Doberman puppies
When selecting the best toys for a Doberman puppy it is important to consider several things. Firstly, they should not be too hard and should have some give. This prevents damage to the jaw and the new teeth. It is also important that they do not shatter or break into small pieces. This is to prevent the risk of your puppy choking on any fragments that come off the toy.
Kong puppy chew toys
As mentioned at the top of this article, The Kong for dogs is a must have. In addition to the classic shape Kong, there are other shapes available such as the Kong teething stick and the Kong Goodie Bone. These have grooves on the side so you can spread a little paste into them to make the toy more interesting than your shoes.
Kong teething stick 

Kong Puppy Goodie Bone 
For puppies that love plush toys but tend to pull apart normal plush toys like Doberman puppies tend to, The Tuffy Junior range is ideal. They are more durable than other plush toys and are machine washable. These are for puppies mainly as an adult dog would be more than likely to be able to destroy them. They are available in a range of sizes to suit your puppy.
Let us know in the comments what your Dobermans favorite toys are.
Related post for best toys for Dobermans
How much exercise does a Doberman need
Toys for dogs that like to shred