Table of Contents
Here is a list of the best agility training equipment for dogs in the market. Learn why and how agility sets will improve your dog's physical and mental well-being.
Why buy dog agility equipment?
The bond you have with your canine starts the moment he comes into your life. There are many ways you can build it to become stronger over time, however, the best way is through exercise. It could be as basic as a walk, a game, or a dog training course.
Your dog needs exercise to stay fit, and so do you. Why not work out together? No matter what you select, your dog will be happy to spend the time with you. You perhaps already know that dogs require various levels of training in order to stay fit and agile.
Why is agility training important for your pet dog?
Dogs were bred to be physically active; they were bred to work. With the modern lifestyle taking up so much of pet owner's time, the only form of exercise pets get nowadays are the walks that their owners take them on. Agility equipment for dogs are not only aimed at the physical activeness but also helps dogs to train their minds as well.
Agility training provides much needed mental stimulation for pets. If your dog is only habituated to walks in the park, you might have noticed them being unusually active right after the walks. It is an indication that their minds are hyperactive and in need of some kind of challenge. It also teaches them discipline and helps in inculcating good behavioral patterns.
Some of the benefits of agility training:
Solves behavioural issues
Keep them physically and mentally fit
It is fun for them
Helps them build a bond with the owner
They become more reliable
Which are the top 3 dog breeds that need the most agility training?
It is no doubt that all dog breeds need physical and mental challenges to stay active and learn good behaviour. No matter what breed you have, you should make it a point to train your pooch to have a better motor function and build a bond with you. Having said that, there are certain breeds that can gain the maximum benefits of agility training. Let us look at some of them:
Border Collie
The Border Collie was initially bred in the countryside of Scotland and England for herding sheep. They are known for their ability to keep an intense watch over the flock. Due to the task being a taxing one for which they were bred, they are known to have an immense amount of energy and stamina. They are known to be highly trainable and have also been known to excel in various canine sports. Border Collies are good family pets and need a lot of physical and mental activities to stay in shape.
Pembroke Welsh Corgi
Welsh Corgis were also bred to herd cattle and horses. They are some of the most active and intelligent breeds in the world. They are friendly and can be easily trained. Pembrokes are suitable for households with children as they are friendly in nature and are eager to learn. Even though Welsh Corgis are short-legged, they are packed with energy and need lots of training.
Jack Russell Terrier
Bred some 200 years ago for the purpose of hunting, Jack Russell Terriers are very friendly, obedient, independent, and full of energy. They can be a handful breed when it comes to training. Most experts say they are best suited for experienced dog owners. Due to their hunting origins, they need an immense amount of exercise and agility training. They might seem small but they are power-packed with energy. Training is an essential part of their regime, if avoided, they can exhibit signs of behavioral problems.
You may also want to check out our article on the best toys to get your Jack Russell Terrier.
Top Recommendations for the Best Agility Training Equipment for Dogs
MiMu Dog Agility Training Equipment Kit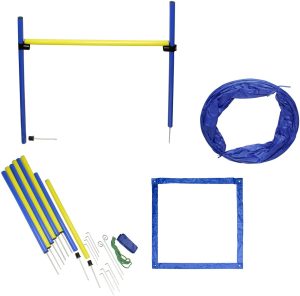 Designed in South-Dakota, the MiMu Agility course helps dog improve their speed, skill, promotes better health and is fun for your pet. This training kit can be used for casual play or introductory training. The Hurdle Jump has an adjustable height and comes with 2 pole connectors. For beginners, one can maintain a height of approximately 4 inches (10cm) above the ground with the crossbar and then gradually raise the level. The kit is also equipped with a coil-shaped, double end opening tunnel which can be expanded to 5-foot (1.5m) length x 2-foot (0.6m) diameter. For sturdiness, the kit comes with 24 x 1-inch (61 x 2.5 cm) poles along with ground stakes.
View MiMu Agility Training Kit on Amazon
CHEERING PET Premium 5 Piece Agility Equipment Course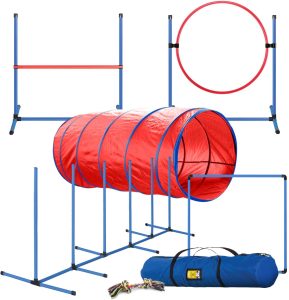 This 5-piece agility course for dogs will give your dog a variety of different training exercises to hone his skills to become a future doggy Olympian. Highly adjustable, it can be set up in a square or row and at varying distances to give your dog a flexible training level. Comes with easily adjustable clips so you can easily set it up wherever you want. For ease of transport, it comes with two sleek bags with handles. Made from premium plastic material which is safe for your dog and is extremely durable.
View Cheering Pet Premium Agility Equipment Course on Amazon
TRIXIE Agility Slalom Weave Poles for Dogs, with 12 Poles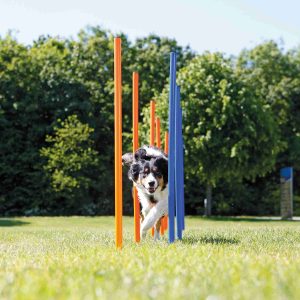 These weave poles are a simple but perfect way to improve your dog's agility. Ideal to train your pet's adaptability and quickness, it includes 12 weaving poles and a carrying case for easy storage or travel. Each pole comes with a steel spike for inserting into the ground and comes with a cord to use as a guide for the placement of the poles. Owners will then coax your dog to weave through the poles.
A good tip is to think outside of the box when setting up the poles, designing creative patterns instead of just using a straight line thus also training your dog's mental acuity .
View Trixie Agility Slalom Weave Poles on Amazon
Yes4All Speed Agility Hurdles Cone Course, Dog Agility Obstacle Training, Pet Outdoor Games
This agility equipment course is created to gradually challenge your pet to do better. It comes with 12 bars and 8 cones, designed so it can be set up in numerous ways, eliminating any monotonous routine. The equipment can improve your pet's confidence, aid in training and obedience, keep them physically and mentally challenged. Additionally, the equipment can be set up as adjustable hurdles or into a weave pole. The course is lightweight so that you can carry it anywhere easily and set it up in a location of your liking.
As a bonus, the equipment can be arranged so kids and adults can train as well.
View Yes4All Speed Agility Hurdles Cone Set on Amazon
Outward Hound Indoor Dog Training Kit
This training equipment set is a perfect way to keep your dog active indoors, keeping them physically healthy if the weather outside doesn't permit. The training booklet guides you in setting up the training set as obstacle courses for your dog to increase his agility. The kit consists of a collapsible tunnel, an adjustable jump and 4 weave poles.
Made with sturdy material to withstand your pup's energetic workout. It is highly durable in nature and is made from safe material to keep your pup healthy. The set is also lightweight which means it can be carried anywhere when traveling.
View Outward Hound Zip & Zoom Indoor Training Kit
Better Sporting Dogs Deluxe Agility Equipment Course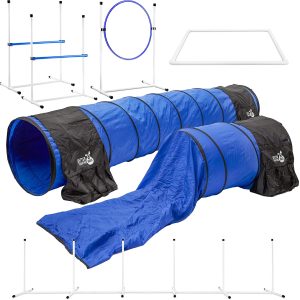 As one of our more expensive recommendations, this US-designed set comes with all the necessary equipment to turn your dog into the ultimate doggy athlete. Featuring not one, but two 26′ wide adjustable bar jumps, an adjustable tire jump, 6 weave poles, a 10 foot long tunnel, a chute tunnel, and a pause box. It also utilizes sand bags instead of metal stakes as a safer and more durable method to keep your tunnels in place.
We highly recommend this complete set if you want to try competing your dog in agility competition.
View Better Sporting Dogs Deluxe Agility Equipment Set on Amazon
Some tips when doing agility training for your pet dogs
Just deciding that your dog needs agility training is not enough. One should also be prepared for various ups and downs when training. Whether you are a new parent or an experienced parent, it is always a good idea to do some research before you invest in expensive agility training gear. You must understand the unique needs of your pet depending on their breed. We will look at some tips that might come in handy when you are planning an agility training regime for your pooch.
Understanding your pet
Experts say it is important to first understand the temperament of your pet dog. You need to first understand if your dog likes to run or do exercises. What is his behavior around other dogs? Is he friendly? Does he rely on you for guidance? These are all the questions that you should be asking before you start agility training. It is also imperative that you check for any injuries or impairments your pet might have before you start agility training.
How can you be involved?
The first thing you need to ask yourself is how much do you want to be involved in the training. Agility training is not just a dog exercise routine, it is a time for you to form and build a strong bond with your pet. One should first identify his own strengths and interests before getting involved. Do you have any likes or dislikes? Would you be okay dedicating so much time? If you feel you are not up for the challenge, you should hire a professional trainer for a better experience.
Start early
It is advisable to always start agility training when your pet is small and is much more trainable, both mentally and physically. When you start your puppy on a dog training course, be careful to not overstrain his fragile bones by making him do rigorous routines. Instead, start with familiarizing him by walking on different surfaces. You can up the level by introducing jumps etc. when he gets a little older and take that kind of strain.
Apart from being an exercise course, agility training is also a course where your pooch will be spending a lot of time while growing up. So, keep an eye out for certain factors when you decide to invest and purchase agility sets for your dog. Some basic things to look out for when selecting an agility training equipment course for your beloved pet.
The type of training kit you are buying
The material that it is made up of
The sturdiness of the kit
The gears that come with the kit
Size and expandability to suit your growing dog's needs
The adjustability of the kit to provide multiple challenges
Reviews about the kit you are purchasing
Talk to people who have used such training kits to get a better understanding of what to expect
Read instructions of a particular kit to see if it suitable for your pet's needs
Regular exercise is essential to staying healthy and fit. Dogs are no exception to this. Exercise is just one of your dog's simple requirements. Life gets busy, and in this pandemic, so many of us forget to give our dogs the exercise they need. Regardless of whether you intend to compete or simply need a fun, challenging exercise routine to do with your pet, agility equipment courses for dogs is an excellent way of keeping you and your beloved pooch active.