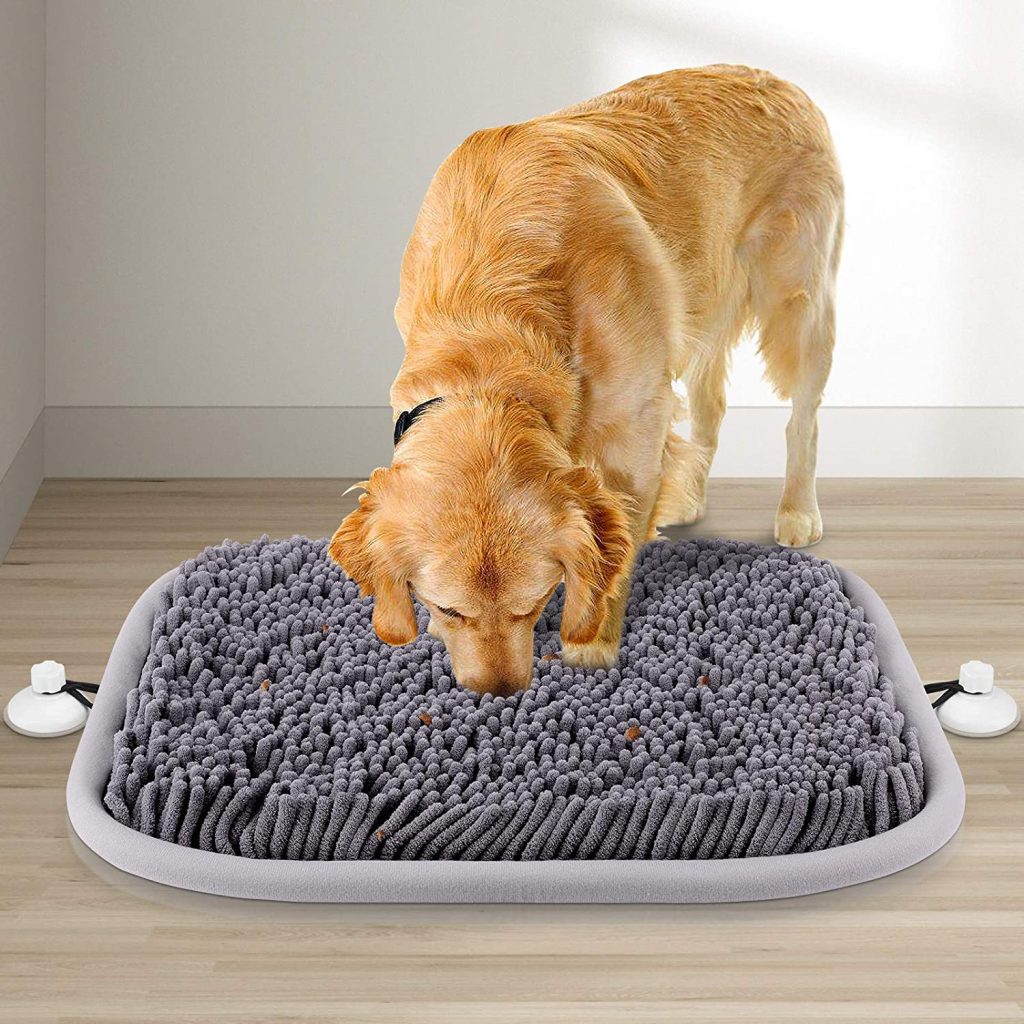 If you have a smart dog with an active mind, interactive puzzle toys are one of the best ways to prevent them from growing bored. The importance of mental enrichment for a dog's overall health and exercise requirements cannot be overstated. Mental stimulation can use as much energy as physical exercise.
When my little Yorkie, Asia, is at home by herself for periods of time I leave her with three or four different puzzle toys hidden around the house. The first time you show your dog where you are hiding the puzzle toys. Once they get the idea of the game, searching for the puzzle toys will add extra stimulation for them.
Interactive toys usually engage dogs mental challenges such as mazes and pattern recognition in the form of positive reinforcement. Doing this regularly should help boost your dog's attention span.
Introducing Your Dog to Puzzle Toys
When introducing your dog to a puzzle toy for the first time, I recommend setting it at the easiest level and rewarding them with tasty treats for the first few times they use it. Professional dog trainers all agree that positive reinforcement is the best way to keep your dog's attention span on the tasks. You may have to experiment with a few different kind of toys to find a good fit for your dog. While some dogs may pick up the puzzle quickly than others, even slower pups will eventually catch on.
Also, avoid toys with small parts that could become choking hazards and remember to use low-calorie treats as rewards. An overindulgence of any food outside of your dog's regular diet may cause gastrointestinal upset.
Best Puzzle Toys for Dogs
Here are my top 10 picks of the best puzzle toys for dogs, in no particular order, each providing different levels of difficulty and challenge for your dog, plus a bonus recommendation at the end.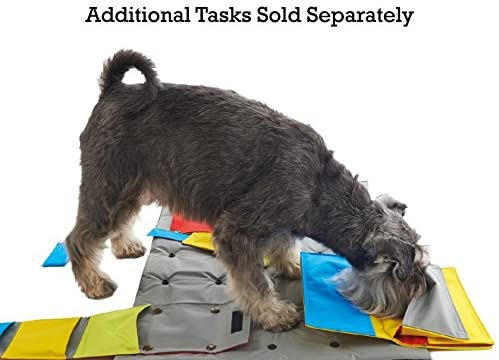 When Marianne Haller Vesterholt realized that her miniature schnauzer was getting too smart for traditional toys, she designed the Buster Activity Mat, a flexible puzzle toy allowing owners to adjust the difficulty levels for their own dog.
The Buster Activity Mat is a mat with press studs to which you can attach different tasks and challenges by where and how you place your treats on it.
You can purchase additional tasks if the need arises. This makes this one of the more versatile puzzle toys. It is made from durable nylon with a non-slip texture on the bottom to help keep it in place.
It can also be hand washed if required. And if your dog is prone to chewing and destroying things, this puzzle may not be the best choice.
Users have mentioned that the mat is not designed for larger dogs because they may have trouble getting to the treats after solving the puzzle, so this toy is more ideal for dogs that are 40 lbs or less.
What attracts me most to this puzzle toy is its versatility. I like how you can vary the level of challenge and add more tasks later if your dog is too smart.
The Tornado puzzle has three layers that spin with four compartments on each level. Designed to challenge your dog by combining actions to reach their rewards. It comes with bone puzzle pieces you can place over the treats to increase the difficulty
The constant movement and spinning action keep your dog engaged. And if your dog is a fast eater, this puzzle is also great at slowing down your dog's eating.
The only downside is your dog may cheat and flip the puzzle over so the treats drop out. In that case, you may need to teach her how to use it properly.
View Tornado Puzzle Toy on Amazon
The Bob A Lot puzzle toy is another great option for providing mental enrichment at mealtimes and in general. This toy comes in two sizes – Small and Large
The large size can hold 3 cups of food which is enough for a full meal for most dogs. It has a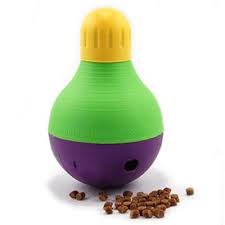 weighted non-slip bottom with an upper and lower chamber inside.
You can adjust the size of the openings to vary the degree of difficulty. This is one of my own dog's favorite puzzle toys and keeps her busy for up to 15 minutes. Much longer than many other puzzle toys.
It is strong and durable but be sure to remove the toy when your dog has got all the treats or food if they are prone to chew their toys.
View Starmark Bob a lot on Amazon
The Tug a Jug is the perfect feeding device for those speedy eaters. But only after a little bit of fun work of course. Gnawing and pulling at the textured natural rubber also cleans their teeth and gums.
This is one for smart dogs that solve most puzzle toys quickly. Your dog has to work out that they need to pull the rope in a precise way to get the treats to come out.
Although it looks like it may not be very durable it is, in fact, reasonably strong and can take pretty rough treatment. Also can hold a lot of food so it can be used at mealtime to slow that speed eater down.
I would be remiss to not include the Kong Classic in any discussion of puzzles and interactive dog toys. This toy was probably the greatest toy to happen to dogs since the invention of the bone.
It is very strong and can be used as a chew toy alone. At one stage the manufacturer claimed that the Kong was indestructible but I think there may have been a couple of dogs that disproven this. They must have been pretty tough dogs as I have never seen a dog destroy one of these. But to those who have defied the impossible, I recommend the aptly named Kong Extreme.
Apart from the Extreme, the Kong comes in a range of models including; the Classic (the standard red one),
Puppy which has a softer customized rubber making it more suitable for puppy teeth and gums
Senior with specially formulated rubber for aging dogs
In addition, the Kong Classic comes in a variety of sizes from small to large. I recommend finding the size that you think is best for your dog. Then get the next size up. They tend to not hold as much food as you think.
The Kong has so many uses from stuffing treats, to filling it with paste so your dog has to get their tongue in there. They are also great to freeze when the weather is hot for a great summertime treat. You can also get treats and stuffers that are specifically designed to fit just right into the Kong. Also available are pastes that come in peanut butter and liver flavors in a spray can for ease of use.
The Kong is so versatile that it is well worth getting a multi-pack of two or three for different uses or keep one in the freezer all the time.
To learn more read "How to use a Kong for dogs"
The Trixie Memory Trainer is a demanding game and may take some initial training to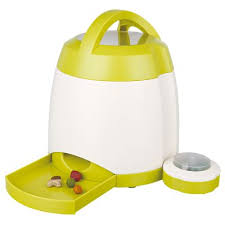 teach your dog how it operates. Surely inspired by Pavlov himself, this toy works by your dog pressing a remote control trigger that releases their scrumptious reward.
Move the remote control either close to the dispenser, in another room, or even in the garden to make it even more challenging.
Also comes with a ground spike for putting in the ground outside and a suction cup for attaching to the wall. Runs off batteries or also comes with a USB power cable. Certainly different from any other puzzle toy I have seen.
View the Trixie Memory Trainer on Amazon
This one is made for those really intelligent dogs. Developed by Outward Hound, the makers of the Tornado Puzzle, the Dog Casino is an advanced Level 3 puzzle game in their line. This time your dog will need to learn sequential steps and combinations to release their hidden treats. Keep in mind, your dog might hate you for this one.
To make the task more difficult you can lock the puzzle pieces so your dog has to twist to unlock them and then lift the bone or pull the draws out.

If your dog seems to solve most puzzle toys easily then this is one you will definitely need. Best for dogs that need a real challenge.
The spinning bottles are an easier challenge for those looking to improve their puppy's or senior's brain development. Because the tubes are required to stay tipped over to dispense food, this is another toy that will slow down your dog's eating. As long as there is food left in the bottles they probably will keep going.
Because the height of the tube placement may be too high for some dogs, this toy is more suitable for medium to large size dogs.
The iFetch Ball Launcher is the only dog puzzle toy that doesn't use treats. The ball itself is the reward. Your dog must learn how to drop the ball into the top so the iFetch can launch it an adjustable 10 to 30 feet.
If your dog has endless amounts of energy, this toy is the perfect replacement for your tired arms in those endless hours of fetch. Fair warning, your puppies may have found a new best friend.
View iFetch Ball Launcher on Amazon
This automatic rolling treat ball from Petgeek is activated by a soft touch from your dog and can last for up to 7 hours. Requires two AAA batteries and goes into sleep mode after a period of no activity.
Provides physical exercise and mental stimulation as they figure out how to release the treats. Can hold up to 380ml of kibble or small treats(sized up to 0.3 inches). This is ideal for those home-alone dogs.
View the Petgeek Automatic Rolling Ball on Amazon,
Check out our article on Toys that Move on Their Own if you want to see some other automatic toys that will keep your dogs enriched and entertained while you are away from them.
Bonus Recommendation
Snuffle Rug
A Snuffle Mat is another great way to provide for your dog's natural digging instinct and to provide mental stimulation and relieve boredom. A Snuffle rug made of fleece and you can hide dry food or treats into it. If you are someone that is good at crafts you can try to make one yourself or check out the range of Snuffle Mats at Amazon.
Research studies have shown that optimal results from the use of puzzle toys for dogs come when the owner is also involved in playing with and using the toys with their dog.
Committing to interactive play with the puzzle toys you choose will both improve results and enhance your dog's enjoyment of these toys.
Whatever your dog's problem-solving skills there is a puzzle toy here that will help give them mental enrichment and relieve boredom. Read "Secrets to maximize the benefit of your dog's toys" and "Mental enrichment and Mind Stimulation" for more on using toys to provide mental stimulation for your dog.
Top Puzzle Toys for Dogs