How enrichment toys can benefit your dog
Toy enrichment is one of the six types of enrichment for dogs. The other types of enrichment are
An enrichment activity you provide for your dog can be classified in more than one of the types of enrichment. For example,  a treat or food stuffed toy can be considered both toy enrichment and food enrichment. To learn more about the 6 types of enrichment for dogs see here.
Providing sufficient exercise for your dog is crucial to keep them in good health and help to tire them and prevent boredom. A tired dog is a happy and well-behaved dog. For a guide to how much exercise your particular dog needs see here.
Boredom is one of the main causes of dog behavior issues. Mental stimulation and enrichment can tire just as much as physical activity.
Enrichment toys are one of the simplest ways to provide mental stimulation and challenge for your dog. These are our most recommended enrichment toys for dogs –
Kong for dogs
The Kong for dogs is a must-have toy for all dogs. You can never have too many Kongs. This way you will never be caught out if you have a ready-to-go stuffed Kong. For how to use a Kong for dogs see here.
The key at first is to stuff the Kong loosely so the food can come out easily. Once they have become more proficient at getting the food you can stuff it more tightly and even block the large hole with a large treat or paste. Alternatively, mix wet and dry ingredients and freeze the Kong. This heightens the experience by providing a longer-lasting and stimulating task.
It is very strong and can be used as a chew toy alone. At one stage the manufacturer claimed that the Kong was indestructible but I think there may have been a couple of dogs that disproved this. They must have been pretty tough dogs as I have never seen a dog destroy one of these. If your dog is one of these super tough dogs I would recommend the Kong Extreme which is the toughest of the range.
Apart from the Extreme the Kong comes in a range of models including; the Classic (the standard red one), Puppy which is a softer customized rubber suitable for puppy teeth and gums, and Senior with specially formulated rubber for aging dogs
In addition, the Kong Classic comes in a variety of sizes from small to large. I recommend finding the size that you think is best for your dog. Then get the next size up. They tend to not hold as much food as you think.
View the Kong for dogs on Amazon.
Puzzle Toys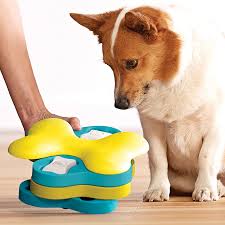 There is quite a range of puzzle toys for dogs. In most cases they involve your dog working out how to get treats from the toy. It is important when selecting puzzle toys for your dog to choose toys that your dog can figure out too quickly.
For our top puzzle toys for dogs see here.
Kong Wobbler
This one is great for a fun game or as a food-dispensing option. The Kong Wobbler holds a good volume of dog kibble or treats to occupy your dog for a reasonable amount of time. Because of its unique shape your dog can bat it with their paws or nose sending it off in all directions dispensing food. It is also ideal for dogs that gobble down their food too fast or are on a diet as it makes them work for their food.
View the Kong Wobbler on Amazon.
This is great for stuffing treats and will keep your dog occupied for a long time. It is also made tough and durable so they won't just destroy it to get to the treats inside.
View Zogoflex Qwizl Puzzle Toy on Amazon
Snuffle mat
A Snuffe Mat is another great way to provide for your dog's natural foraging instinct and to provide mental stimulation and relieve boredom. A Snuffe mat is a mat that is made of fleece and you can hide dry food or treats into it.
If you are someone that is good at crafts you can try to make one yourself or check out the range of Snuffle Mats at Amazon.
The iFetch Frenzy is the only dog puzzle toy that doesn't use treats. The ball itself is the reward. Your dog drops the ball into the top and scrambles to find it as it randomly rolls from 6-12 feet out of 1 of 3 chutes at the base.
There's no launching, like our other iFetch ball launchers. This product allows dogs to quickly return to the real challenge: the mental game of guessing where the ball will appear next.
This automatic rolling treat ball from Petgeek is activated by a soft touch from your dog and can last for up to 7 hours. It requires two AAA batteries and goes into sleep mode after a period of no activity.
It provides physical exercise and mental stimulation as they figure out how to release the treats.  Can hold up to 380ml of kibble or small treats(sized up to 0.3 inches). This is ideal for the home-alone dog also.
View the Petgeek Automatic Rolling Ball on Amazon,
Digging is a natural behavior for dogs. However, if your dog is digging up your garden or even your carpet and furniture you probably won't be happy. You really train an instinctive behavior out of a dog, but you can redirect it.
The latest toy for dogs that dig is the iDig Go from the people that have brought you the iFetch automatic ball launcher. See "Automatic ball launchers for dogs" to learn more.
This is the first dog toy that has been specially designed to cater to your dog's natural digging instinct. You simply hide their favorite toy or treats in the flaps and let them dig away to uncover the hidden treasure. Not only will the action of digging help burn off pent-up energy, but the mental challenge of working out how to get to the goodies will help to tire them also.
Check out the video to see how this works or view the iDig Go on Amazon.
For more dog toys for diggers see here.
The plush giggle ball makes dog growling sounds and has a shaking motion for 20 seconds when you turn it on. The toy will activate again by shaking or touching from your dog. This toy provides enrichment for your dog by engaging their natural prey instinct.
The plush cover can be removed and is machine washable. The toy runs off 3 x AAA batteries which comes with the item.
Dog toys that move on their own
Other dog toys that engage your dog's natural chase and prey are automatic moving chase toys like the GoBone, the Wicked Bone, or other similar toys. There are a few different options to choose from including some that you can operate from a phone app using wifi or blue tooth and even the Varram Pet Robot that dispenses treats.
For more on dog toys that move on their own see here.
Chew Toys
Chewing a natural behavior for dogs and has many benefits. In addition to dental health and keeping your dog occupied, chewing is a natural stress release for a dog.
When a dog chews, endorphins are released to the brain giving them a relaxed and calming feeling. Chew toys are also the best way to redirect or prevent unwanted chewing of your property.
There are three types of chewers – gentle chewer, average chewer, and power chewers. It is important to select chew toys that are appropriate for your dog's chewing style.
For the best chew toys for dogs see here.
Let us know in the comments if your dog has any of these enrichment toys for dogs and which is their favorite. Alternatively, let us know of any other enrichment toys that your dog loves.
Posts related to Enrichment toys for dogs
Dog toys that ove on their own
6 Types of enrichment for dogs
Food enrichment ideas for dogs