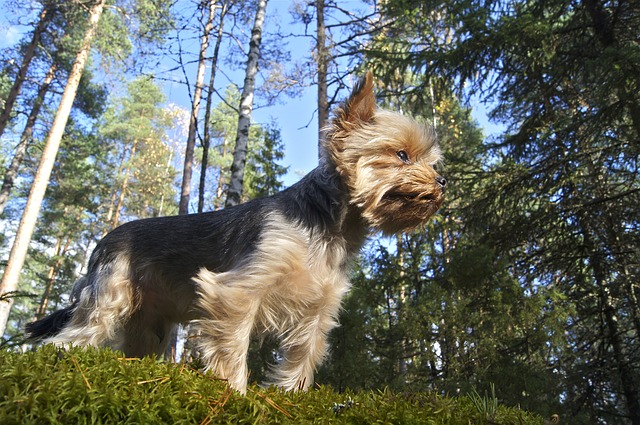 The best type of dog toys for Yorkshire Terriers (affectionately known as Yorkies) are toys that cater to their natural instincts and traits. Yorkies are very playful little dogs and love to have a good variety of toys to play with.
Yorkies are high energy, quick and agile, and are highly intelligent. The Yorkie was originally bred as a ratting dog so toys that stimulate their chase instinct are ideal for burning off some of that pent-up energy.
They are also extremely smart and skilled at solving problems. It is important to provide them dog toys that challenge their minds. Mental stimulation can also burn as much energy as physical activity.
Here are some of the best toys for Yorkies;
Toys for Yorkies that burn energy
Yorkies are a high energy dog that requires a reasonable amount of exercise. In addition to the daily walk, dog toys can be used to help release more of that pent-up energy. To learn more about the exercise requirements of Yorkies see here.
These toys stimulate their natural hunting and chase instinct while giving them a good workout.
A Flirt pole is like a giant cat tickler for dogs. It has a long handle with a bungy type rope with a lure or toy attached to the end. You simply move the lure along the ground around in circles or in different directions as your dog chases it. It works directly with their natural prey instinct. Be sure they have a good leave-it command and don't allow them to destroy the toy. This game is excellent for burning up that pent-up energy in a short amount of time. For a full guide to flirt pole exercise for dogs see here.
View the range of flirt poles on Amazon.
Wicked Bone is an interactive smart dog toy that plays and interacts with your dogs. You will be able to set it to Drive Mode where you can control it with your mobile phone, or set it to Interactive Mode for the toy to auto-play with your dog.
The Wicked Bone adapts to your dog by way of 12 types of emotionally driven systems. It acts responsively to different types of touch, such as chasing, teasing or avoiding, and so on.
With the Wicked bone App, you can set different parameters such as speed, swerve, acceleration for playing indoors or outdoors, as well as adjustable sensitivities for playing on hard or soft grounds.
The Wicked Bone operates on Bluetooth with a connection range of up to 30 50 feet.
There are also available similar chase bone type toys such as the GoBone and the PetGeek Play Bone. The GoBone works using your WiFi connection allowing you to operate it when you are not home. This makes it ideal for the home-alone dog when you are at work or away for long periods of time.
The PetGeek Play Bone is similar to the other two chase bone type toys except it doesn't have a smart app so you can control the toy or activate it when you're not home. However, price-wise it is significantly cheaper.
To learn more about the differences between these three play bone type toys see here. This will enable you to decide which toys suit your needs and budget best.
If your dog is ball mad then the Wicked Ball is the ultimate moving dog toy for them. The magic ball runs and bounces all by itself and the LED light adds another level of engagement for your dog. No App or remote controller required.
It has several settings such as the Intelligent Companion mode. In this mode, the Wicked ball has 10 minutes of play and 30 minutes of rest. If your dog pushes or hits the ball it starts the play cycle again. It also has three reaction modes (gentle, normal, active) so you can set it to suit your dog's mood.  Due to its obstacle avoidance system (collision sensor), it doesn't get stuck in tight spots.
The Wicked ball is durable and dog safe and is also waterproof so can be played with when swimming. It also has a treat hole for dogs that are food motivated.
View the Wicked Ball on Amazon.
This remote control rat chase toy is probably really meant for cats, but if you have a Yorkshire Terrier this would be fine for them. After all chasing rats is what they were meant to do.
It would probably be best to keep this a controlled activity as they may destroy it easily.  The toy itself is a reasonable size measuring 29cm in length including the tail.
These are relatively inexpensive and you can even get a pack of three of these each with a remote for only a little more just in case your dog makes short work of it.
Another great toy for the rodent chasing instincts of a Yorkie. The Doggie Tail vibrates and jumps to stimulate your dog. It also makes intriguing sounds to further engage them. It requires 3 AAA batteries and will shut off after a period of inactivity to prolong battery life. If your dog damages the outer material you can get replacement covers. It also comes in different styles including Crab, Hedgehog, and Owl.
For similar plush toys that vibrate, bounce around, and move on their own see here.
Perfect balls for that game of fetch with your Yorkie as they combine lights, sound, and movement to make it more like chasing prey. The ball features small grip holes so your Yorkie can pick it up and move it around.
These balls make teasing sounds and slightly throb resembling the feeling of live prey. They have a high bounce making them great t chase. With the lights, they are easy to see even in the dark. Don't worry if you lose one as they come in a pack of three.
See LED High Bounce Balls on Amazon
Automatic ball launchers
If your Yorkie loves a good game of fetch (most do) but you grow tired of having to throw the ball over and over an automatic ball launcher is the answer. With an Automatic Ball Launcher, they can play fetch by all by themselves. This will require training them to put the ball in the funnel initially, but once they know what to do they are away and fetching. Read Automatic Ball Launchers for Dogs to learn more.
Toys for Yorkies that challenge their minds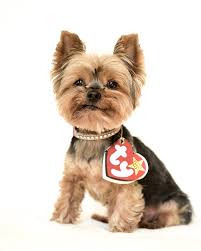 Yorkies are smart little dogs. It is crucial not only to exercise their bodies but their minds as well.  With their endless supply of energy, it is unlikely that physical exercise alone will truly tire them.
The best type of types to provide mental stimulation for any dog is generally the puzzle-type toys. Most of these usually involve your dog working out how to get a treat out of the toy (with the exception of the iFrenzy – see below).
Others can be used for giving your Yorkie their meal providing a mental challenge while making them work for their food. Some Yorkies can be a little picky with their food, so making it fun and giving them a challenge often encourages them to eat.
When selecting interactive puzzle-type toys for your Yorkie it is best to select toys that are a little more difficult. As Yorkies are great problem solvers you don't want them to figure it out too quickly.
Here are some of the top picks for puzzle toys for Yorkies. For more ideas on the top puzzle toys for dogs see here.
This automatic rolling treat ball from Petgeek is activated by a soft touch from your dog and can last for up to 7 hours. Requires two AAA batteries and goes into sleep mode after a period of no activity.
Provides physical exercise and mental stimulation as they figure out how to release the treats.  Can hold up to 380ml of kibble or small treats(sized up to 0.3 inches). This is ideal for the home-alone dog also.
View the Petgeek Automatic Rolling Ball on Amazon,
The iFetch Frenzy is the only dog puzzle toy that doesn't use treats. The ball itself is the reward. Your dog drops the ball into the top and scrambles to find it as it randomly rolls from 6-12 feet out of 1 of 3 chutes at the base.
There's no launching, like our other iFetch ball launchers but it still gives your Yorkie the opportunity to chase. This product allows dogs to quickly return to the real challenge: the mental game of guessing where the ball will appear next.
View the iFrenzy on Amazon
This one is great for a fun game or as a food-dispensing option. The Kong Wobbler holds a good volume of dog kibble or treats to occupy your dog for a reasonable amount of time. Because of its unique shape your dog can bat it with their paws or nose sending it off in all directions dispensing food. It is also ideal for dogs that gobble down their food too fast or are on a diet as it makes them work for their food.
View the Kong Wobbler on Amazon.
It would be remiss to not include the Kong Classic in any discussion of puzzles and interactive dog toys. This toy was probably the greatest toy to happen to dogs since the invention of the bone.
The Kong has multiple uses. It provides a mental challenge to get the food and goodies out, is great just as a chew toy, and because of its unique shape is great for games of fetch. When it bounces it flies off in unpredictable directions keeping your Yorkie guessing and making it like chasing real prey. To learn more on how to use a Kong for dogs see here.
The Kong comes in a range of models including;
the Classic (the standard red one)
Puppy, which is a softer customized rubber suitable for puppy teeth and gums
Senior with specially formulated rubber for aging dogs
In addition, the Kong Classic comes in a variety of sizes from small to large. I recommend getting the Medium for a Yorkie. The smaller one tends to not hold as much food as you think.
The Tug a Jug is not just a puzzle toy as it has a dental gum massaging top and rope. Even without treats in it is a fun toy for dogs anyway.
This is one for smart dogs that solve most puzzle toys quickly. Your dog has to work out that they need to pull the rope in a precise way to get the treats to come out.
Although it looks like it may not be very durable it is, in fact, reasonably strong and can take pretty rough treatment. Also can hold a lot of food so can be used at mealtime to slow that speed eater down.
For more puzzle toy ideas see here.
Snuffe Rug
A Snuffe Mat is another great way to provide for your dog's natural digging instinct and to provide mental stimulation and relieve boredom. A Snuffe mat is a mat that is made of fleece and you can hide dry food or treats into it. If you are someone that is good at crafts you can try to make one yourself or check out the range of Snuffle Mats at Amazon.
Plush toys for Yorkies
Another type of toy that Yorkies really love is Plush Toys, particularly with squeakers in them. This is like killing their prey to a Yorkie.
Most Yorkies aren't overly destructive with their plush toys. However, if your Yorkie tends to rip them apart and pull out the stuffing I recommend the Outward Hound Invincibles range
This range ticks all the boxes being super tough has no stuffing for you to clean up and also has invincible squeakers in them. Even if the squeaker is punctured they continue to work.
Check out the range of Outward Hound Invincibles here at Amazon
If your Yorkie isn't destructive with their plush toys, there is a huge range of inexpensive plush toys available to select from. Check out plush dog toys on Amazon.
Chew toys for Yorkies
Providing chew toys for your Yorkie is also a good idea. Chewing is a natural behavior for dogs and has numerous benefits. Chewing is not only good for dental health as well as keeping a dog occupied. When a dog chews it releases endorphins to their brain making them feel calm and relaxed. It is the ideal stress relief for dogs.
It is best to select chew toys for your Yorkie that aren't too hard as they only have a small jaw and teeth. Anything too tough could do damage to them.
The best chew toys for Yorkies tend to be dental chew toys. Not only are these types of chew toys generally made of more flexible materials they clean the teeth at the same time. Dental health is important for Yorkies as they tend to have dental issues and rotting teeth when they get older. Check out the range of dental chew toys at Amazon,
These are an ideal inexpensive option for small dogs like a Yorkie. They come in a set of three toys. The ropes remove soft tartar for dental health.
View Petstages Chew Toys on Amazon.
Another pack of three dental chew toy options for little dogs like Chihuahua. Nylabone is one of the best-known brands in dog chew toys. Delicious bacon and allergen-free peanut butter flavors to encourage your Chihuahua to chew.
View Nylabone Flexichew on Amazon.
Edible dog chews
Natural edible dog chews are highly appealing to dogs as they are food.  a great way to add some variety to your dog's diet. These include ears, antlers, bones, and bully sticks.
View Edible Chews on Amazon.
To learn more about chew toys for dogs see here.
Related post for best toys for Yorkies